The New Year is set to dawn; it is time to make resolutions and then break them a few weeks down the line. However, don't let broken resolutions get the better of your business. In 2018, begin the New Year with a new website design that follows the latest trends and showcases your business to the world in a unique and appealing manner.
Here are the top website design trends for 2018. You can ask your website design company to integrate these trends with your requirements and create a modern and eye-catching website that convinces visitors to browse through your site to generate leads and paying customers.
1. Geometry is Interesting
This trend initially made its appearance in 2016 and gained immense popularity in 2017. It is anticipated that geometric shapes, like rectangles and circles, will rear their heads even in 2018.
Great results begin with a great idea. So, it is best to create that idea with geometric shapes and patterns. It gives the website a flat design and uses geometric shapes and patterns to create eye-catching decorative elements that give more definition to the webpage.
2. Make Your Presence Felt with Bright Colors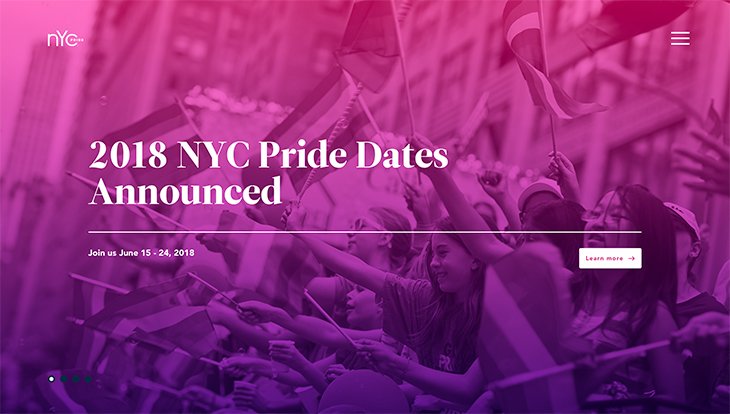 It is time to declare your online presence to the world. There is no better way to do it than with bold, bright colors. Let the website design company experiment with multi-colored gradients to create a contemporary look that is inviting, comforting and exciting. However, this requires a bit of expertise; otherwise, you will end up with jarring, flashy colors.
Colors impact people's emotions and affect their purchase choices. Using the right spectrum of colors by blending them in, deepening them or using them in the foreground against dark background can make your website more interesting and alluring to prospective visitors so that they are compelled to make a purchase.
3. Unique Hand Drawn Graphics are Leading the Way
Graphic design for a website is underrated and many website designers are still to discover its full potential. Sketch art and line art will be hot website design trends in 2018. In fact, sketch art is the new kid on the block and has captured the imagination of many businesses.
Even line art icons are trending as website designers can use contour drawing to create complex icons and improve visual performance. This trend will gain popularity in 2018, as businesses look at more appealing designs to attract visitors.
4. Showcase Your Individuality with Photos
A photograph is worth a thousand words – thanks to eCommerce sites, this trend will continue in 2018 when it comes to website design. As an e-tailer, forget about run-of-the-mill photographs. Your target audience is dying to see unique pictures and you should not disappoint them, especially if it convinces them to make a purchase.
The key is to avoid stock photographs. Instead, to attract maximum attention, it is imperative that you use just original and unique photographs on your website, ones that cannot be found anywhere else on the internet. This way, you can demonstrate your individuality and show visitors what sets you apart from your competition.
5. Give Visual Pleasure with Animation
Animations are ruling the roost. They are being integrated as background videos, and into order processing and website menus. When your website design team uses animation for logos and icons, or as transitions, you will create a superior visual experience for your website visitors.
It is important to focus on quality so that the animation is seamless and smooth. The continuous cycle of the animation should provide a refined visual treat to the eyes. Animation has the ability to add drama to a webpage and make it more interactive. As a result, it will retain a website visitor's attention for a longer period of time. What more could you ask for?
The Bottom Line
2018 is going to be an exciting time in the world of website designing. With the help of the latest website design trends, businesses can stand out and reach out to a larger audience. Individuality is highly cherished, and website design offers online businesses to leave an indelible mark on their target audience.